Jaya Kula: Healing with the 5 Elements
December 30 @ 6:30 pm

-

8:30 pm

|

Recurring Event

(See all)

One event on December 31, 2021 at 9:00 am

One event on December 31, 2021 at 6:30 pm

One event on January 1, 2022 at 9:00 am
Event Navigation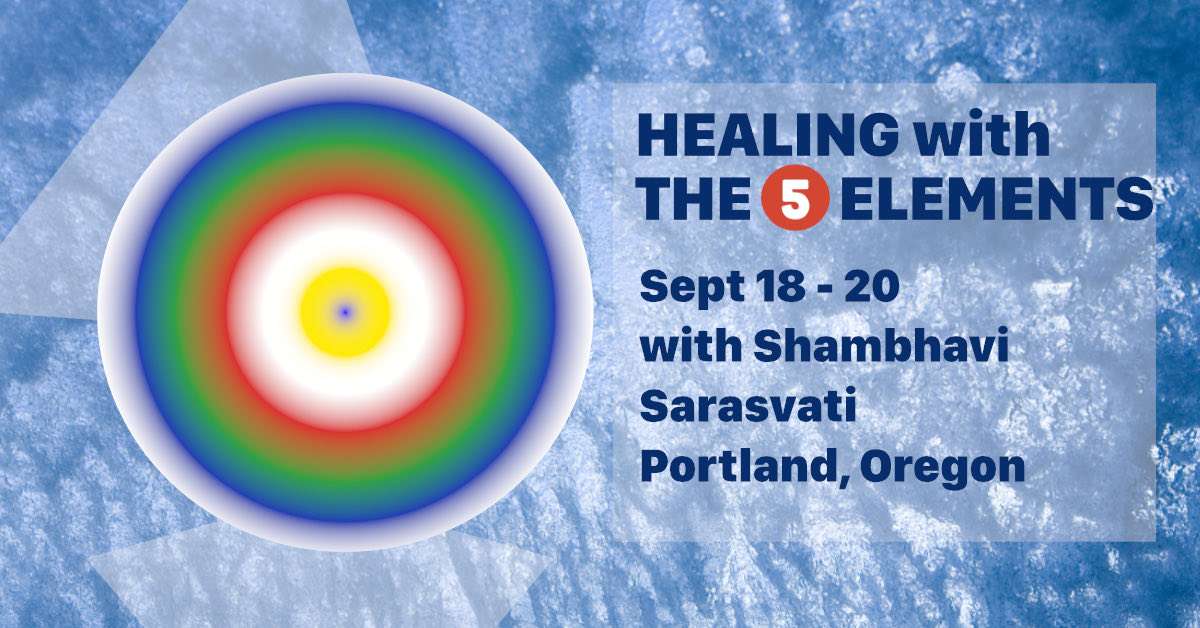 DESCRIPTION
Join Shambhavi Sarasvati for a three-day healing immersion in earth, water, fire, air, and space. Learn powerful five-element healing practices from the traditions of Trika Shaivism, Ayurveda, and Daoism. Balance and purify the five elements to create more subtlety in your experience and perceptions.
DAY 1: THE 37 TATTVAS AND FIVE-ELEMENT COSMOLOGY
Central to the Indian tradition of Trika Shaivism, the 37 tattvas or elements are a cosmological map for awakening. They describe the nature of our existence and how we emerge in all of our glorious, infinite variety. Earth, water, fire, air, and space are key elements in this map and relate most directly to our everyday experience, including our experience of disease.
WHAT YOU WILL LEARN (DAY 1)
Shambhavi offers an experiential journey through the 37 tattvas and describes how they show up in human life and spiritual practice.
You'll deepen your understanding of how working with the five elements is both a healing practice and a practice of liberation.
You'll learn practical ways to engage with the five elements for healing.
DAYS 2 & 3: HEALING WITH COLOR, FORM, AND SOUND
Shambhavi will share an ancient five-element purification practice from the tradition of Trika Shaivism. This is a seated practice done with mantra, yantra, and color. It has been adapted by Shambhavi for householders from one of the source tantras of the tradition–the Mālinīvijayattaratantra. For those who have taken Bhuta Shuddhi, this is a different sadhana.A personal note from Shambhavi: This older form of five-element purification is both accessible and a powerful gateway to healing. Having learned, benefitted from, and shared various healing practices over the past several decades, I am finding this way of working with the elements to be a joy and a revelation. I can't wait to share it with you. With love, ShambhaviWHAT YOU WILL LEARN (DAYS 2 & 3)
Forms (yantras), colors, mantras, and qualities associated with each of the five elements
A powerful, alchemical seated practice that immerses you in the energy of the elements and invites balance, health, and connection
PREREQUISITES
There are no prerequisites. Anyone may attend.
SCHEDULE
The 37 Tattvas and Five-Element Cosmology teaching on Sept. 18 is being offered preceding the two-day practice retreat in Healing with Color, Form, and Sound. You may take just day one, all three days, or just days two and three. You may not take only day two or only day three.Day 1: The 37 Tattvas and Five-Element Cosmology
ABOUT THE TEACHER
Shambhavi Sarasvati emphasizes the more explicitly devotional teachings and practices of Trika Shaivism and Dzogchen and direct knowing through encounters with the wisdom of the heart. She is also known for making complex teachings about the nature of the self and reality understandable, practical, and always relatable to everyday experience. Her teachings are grounded in her more than thirty-five years of daily personal practice and personal retreats."Generosity is a fountain of living light at the heart of creation. Having opened your heart and recognized its identity with the heart of the divine, you want to be here giving and giving throughout your natural lifetime. This is the essence of realization." ~Shambhavi
Related Events