Breath of Pleasure-Women's Healing Circle
January 18 @ 7:00 pm

-

9:00 pm
Event Navigation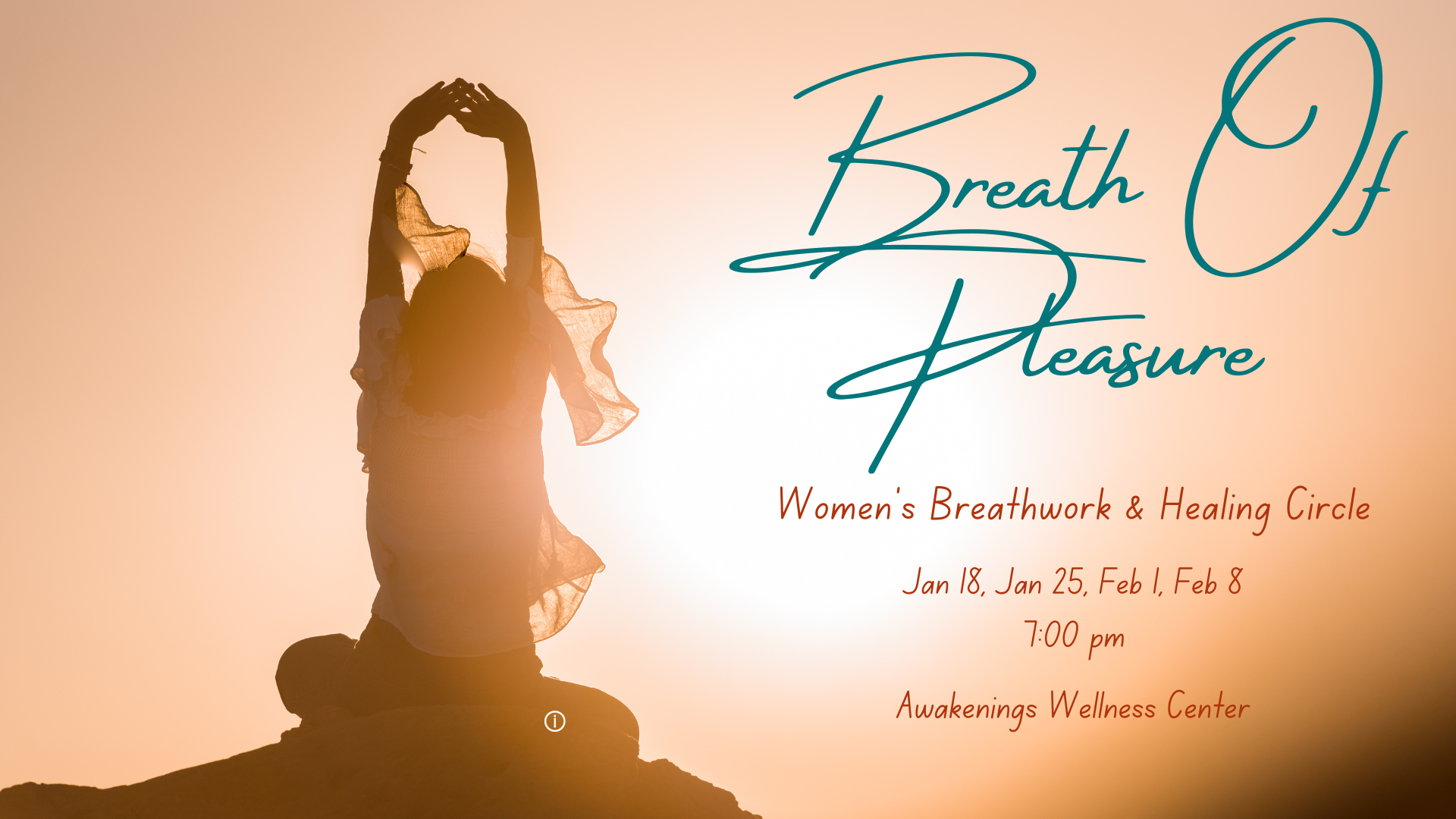 Breath of pleasure is an invitation to reconnect with your body's deep wisdom, ability to self-heal and capacity for untapped pleasure!
This 4-part workshop is for you if you are a woman who is experiencing…
-Pain, numbness or tension during sex, self-pleasure or everyday life
-Difficulty being vulnerable with others and wounding from past heartbreak
-Anxiety, depression, exhaustion, illness, and other mental/physical health challenges that make it difficult for you to feel empowered and excited about life
-A feeling of fear or resistance around taking up space, using your voice and showing up authentically in the world
Together, we will use the power of breathwork along with meditation, movement and embodiment practices to…
-Release deep-held wounding, shaming, and fear that can cause blocks within our physical and energetic body.
-Reconnect with the body and sensations for more sensitivity and pleasure during sex as well as deep relaxation and self awareness
-Harness the power of our sexual/life force energy for more creativity, radiance, and empowerment
-Gather together in sisterhood to collectively heal and release shame and repression around our bodies, sexuality, self expression and pleasure
For more info and tickets, please visit the Eventbrite page below. I can't wait to share this time with you!
About your host:
Francesca Loux has a degree in Psychology and Women's and Gender Studies. In 2017, she quit her successful corporate job to travel the world solo and pursue her passion for holistic healing. She has experience in sacred sexuality, breathwork, and plant medicine facilitation.
Francesca is a VITA certified Empowerment & Sexuality Coach who offers both 1:1 and group coaching, retreats and workshops. Her mission in life is to support women who are ready to reconnect to their worthiness, confidence & radiance so that they can powerfully create a life of pleasure, abundance and freedom. More info about her work and offerings can be found on her Instagram: @francesca.loux
Related Events