Embodying The Dream
December 13, 2022 @ 7:00 pm

-

9:00 pm
Event Navigation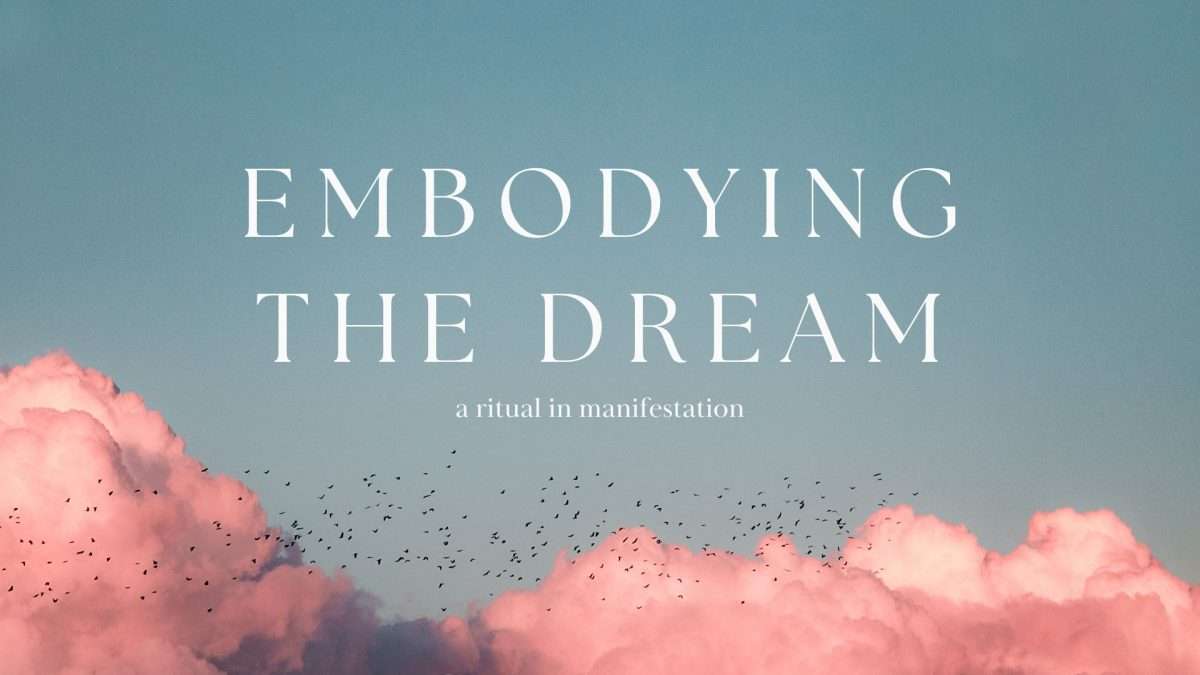 About The Event:
Embodying The Dream is a ritualistic evening filled with transformational breathwork, manifestation, desire, and clarity. The focus of this event is to gain clarity of your dreams while uncovering and releasing blockages that may be in your way. Manifestation is a practice of intentionally calling in your desires while keeping a deep presence with yourself and the world around you. When paired with transformational breathwork and a supportive community, this practice becomes more potent and empowering.
What to Expect:
During our ritual we will combine the powerful magic of Holotropic Breathwork, manifestation, Tantric practices, alter building, movement, and more.
Together we will explore empowerment techniques to aid in the truest expression of your desires and goals so you can manifest them with clarity and trust. Learn to follow the intuition of your body while being supported by the uplifting energy of this community.
Prepare to leave feeling connected to your desires, lit up about your goals, and reconnected with your highest Self.
In our time together you will…
Experience embodiment practices aimed to ground you into your body and your truth
Engage in a transformational Holotropic breathwork practice designed to help you breakthrough and release stuck energy
Receive sound healing throughout your breathwork to activate deeper somatic releasing
Practice reflective journaling and manifestation setting practices
Connection, processing and sharing with supportive group members
Release out-dated energies that are no longer in alignment with this next transition in your life
Experience deep healing within while feeling supported by a loving and conscious community
What to Bring:
Yoga mat, eye pillow, extra blankets and anything to keep you comfortable while in ceremony and practicing breathwork
A journal and something to write with
Any fruits/flowers/sacred items to add to the altar as an offering or representation of your dreams + vision
*Feel free to dress up! Use your attire to embody and honor your dreams and desires
Ticket Sliding Scale: Donation based – $25-$35
*Spaces are extremely limited and are intended to sell out*
About the Facilitators
Jordan Aftanas is a Wellness Strategist and Coach who utilize strategic personal development and holistic wellbeing practices to help individuals and organizations navigate their internal landscape so they can live a life of congruency, resilience and powerful impact. She is a certified Master Life Coach, Ayurvedic Practitioner, Yoga + Meditation teacher, Breathwork Facilitator and over 8+ years of strategic consulting experience.
Charlie Henderson is a zealous human being whose passions lie in human connection, tantra, and nervous system-based healing. As an intimacy and empowerment expert, her goal is to support her clients to experience an authentic relationship with themselves, true liberation of the body, and the fullest expression of their unique sexuality.
Her coaching practice incorporates the most influential teachings of modern neurobiology and holistic healing. Charlie draws on the techniques of the ancient teachings of Tantra, Taoism, and Sacred Sexuality and blends them with western neuroscience, psychology, and trauma healing. In her free time Charlie enjoys dancing, singing, writing and playing music, spending as much time as possible in nature.
Feel free to reach out to hello@charlie-henderson.com or jordanaftanas@gmail.com for additional questions.
Related Events