Lion's Gate & Full Moon Sound Healing Meditation
August 9, 2022 @ 7:00 pm

-

9:00 pm
Event Navigation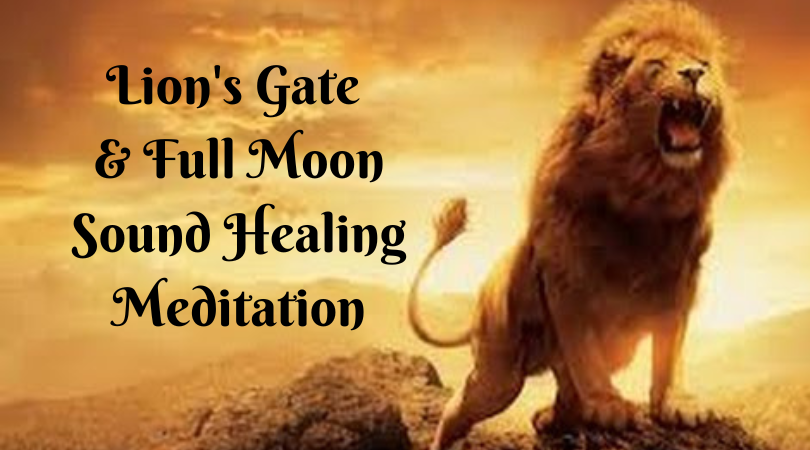 During the potent time of the Lion's Gate Energetic Portal & Full Moon in Aquarius, we'll gather for a Group Sound Healing Meditation to call forth and embody Higher Vibrational Energies into our Being with the intention of anchoring it here on this Earthly Plane of Existence to help amplify Humanities Conscious & Spiritual Evolution (Ascension) ✨
The celestial and purifying tones of the Singing Crystal Bowls and the transcendental Frequencies of the large Paiste Gongs bring on into a higher vibrational state quickly and easily… Combined with a powerful guided chakra meditation, no matter your experience level, you will be guided to be able to easily receive these higher vibrational energies with ease and Grace…!
The Full Moon in Aquarius during the Sun Sign of Leo prompts us to embody greater courage and confidence in holding BIG spiritual energy (Leo) for the benefit and advancement of humanity (Aquarius).
And during the Lion's Gate portal which peaks on 8/8 (but the higher vibrational energies are available a few days before and after) we have access to Celestial Higher Vibrational Energy that we can more readily call forth to embody for our spiritual evolution…
This higher vibrational celestial energy of this Lion's Gate Portal brings in a greater flow of abundance, greater potential for manifestation, and heightened sensitivity to higher frequencies to those receptive and open to receive it…
As a Hypnotherapist & Sound Healer for 18 years, Nicole has been facilitating these powerful journeys in group form for just as long with the intention of self-improvement, self-empowerment, and to advance and evolve consciously and spiritually. Although it may sound otherwise, this is done without the spiritual woo and fluff, but instead with the very real energy, potential, and possibilities available to us to tap into!
Come experience this no matter your experience level with any of this – just come with an open mind and a willingness to evolve!
(And yes, we've got AC, so come cool down and tap in with us!)
DETAILS
WHEN: Tues, August 9th, 2022
TIME: 7pm-9pm
WHERE: Awakenings Wellness Center
1016 SE 12th Ave, PDX
CONTRIBUTION: $30
::BIO::
For 18 years, Nicole Alcyon has combined her skills as a Hypnotherapist, Sound Healer (with over a dozen Singing Crystal Bowls, 2 Paiste Gongs and other sound healing instruments), and expertise on Chakra Cleansing/Balancing to create a unique and highly potent approach to therapeutic group sound healing sessions. These are channeled guided meditations/sessions from her Higher Self and the Divine that she brings forth. The intention for these high vibrational Hypno-Chakra and/or Sound Healing Sessions is to provide the opportunity to strengthen our connection and alignment to our Higher Self! Nicole graduated from her year-long Hypnotherapy program in 2004, and received very clear guidance to purchase a chakra set of the singing crystal bowls that same year. Upon playing her set for the first time, the idea of Hypno-Chakra Therapy was downloaded and birthed into existence! She has been facilitating private and group sessions since 2004.
~Blessings~
Nicole Alcyon
www.trinitihealing.com
Related Events