New Moon Kirtan + Cacoa & Heartsongs
September 25 @ 7:00 pm

-

9:00 pm
Event Navigation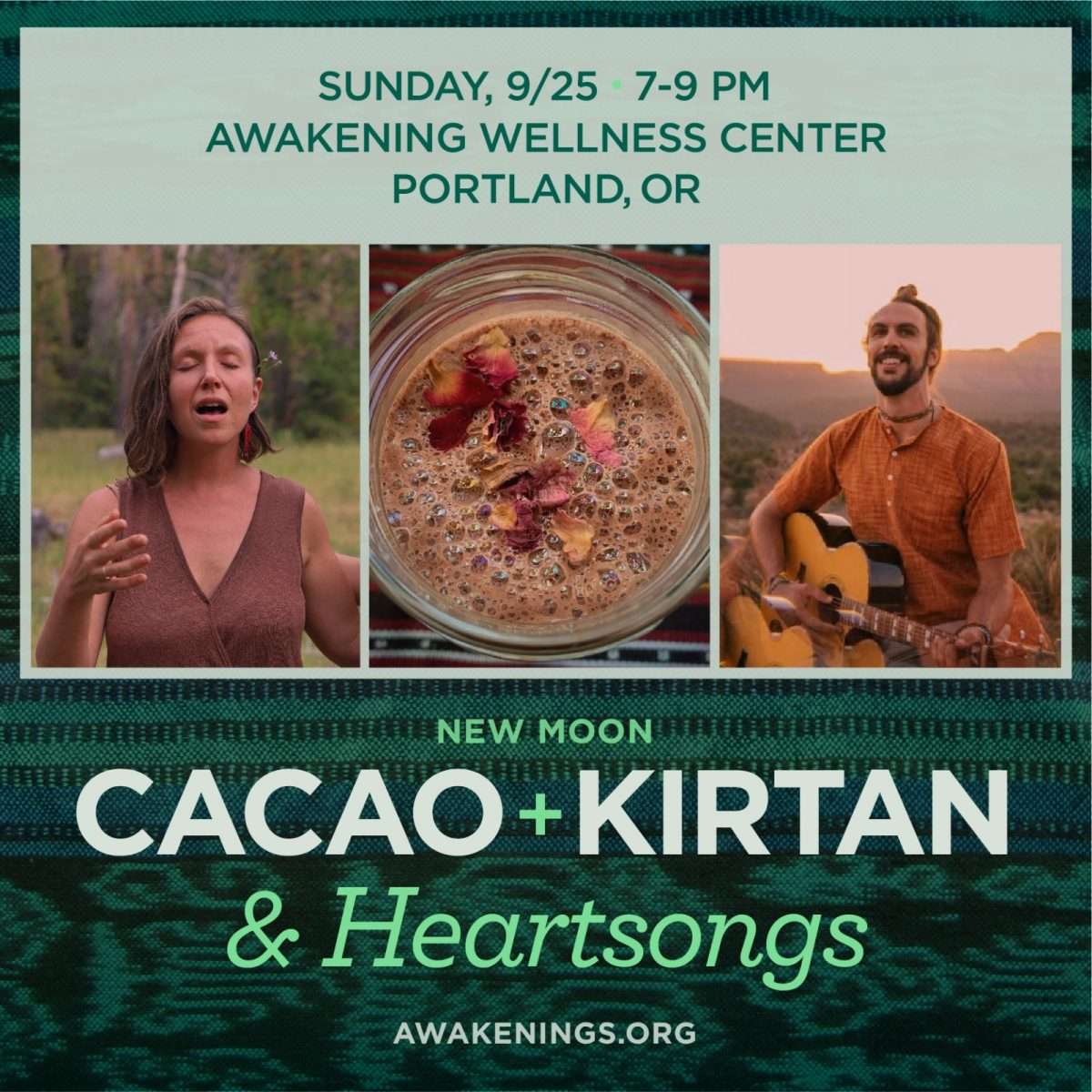 Join Christopher Lionheart & Maggie Taurick on an intimate journey of opening the heart and voice through song and medicine.
Through the chanting of ancient devotional mantras from India, joining together with songs of the heart and the heart & voice-opening medicine of Cacao from the rich volcanic soils of Central America, we will create a sacred space where the expression of love & sound will dance freely, bringing us together in authentic connection with ourselves & the Divine. 
***
Sunday September 25th, 7-9pm
Awakenings Wellness Center
1016 SE 12th Ave, Portland, OR 97214
***
Energy Exchange:
$15-25 sliding scale (in advance–Venmo @ChristopherLionheart or PayPal yawehlove73@gmail.com to reserve your spot)
$30 (same day) 
If money is an issue for anyone who'd like to join, please get in touch with us and we'll see what we can work out. :)
***
To prepare: Eat lightly beforehand and avoid mind-altering substances. And bring water for yourself to stay hydrated + your favorite cup for cacao! 
Please note that ceremonial doses of cacao are not recommended for those with high blood pressure, or other heart conditions, or those taking certain antidepressants. If you're not sure, consult with your doctor. If you prefer not to drink cacao for any reason, feel free to bring some tea or your beverage of choice instead!
***
Christopher Lionheart is a singer/songwriter whose music style is
inspired by conscious alternative artists such Trevor Hall and Nahko. He creates a warming blend of intimate acoustic, reggae and devotional sounds that quickly bring listeners into the heart space.
Christopher was born with a passion for worship, often leading worship for Bible studies and youth groups, until he started searching for his own authentic path to God – which led him to Kirtan. Christopher offers a unique and heartfelt fusion of Kirtan and medicine songs. In recent years he has gravitated towards the path of Bhakti, devotional worship and chanting, and it has become a cornerstone of his music and life. His intention for his music is to break people's hearts open to divine love.
Maggie Taurick is a yogini, designer, and carrier of sacred sound. She has been practicing yoga for over 15 years and is forever a student, constantly deepening her practice and exploring ways to integrate it further into her life. This exploration has led her to the unique combination of sound and cacao, which she became immersed in while living in Guatemala. With the help of these tools, she guides students to recognize the infinite wisdom and creativity within them; bringing more intention, freedom, and awareness to their daily lives.
She is the co-founder of Awakened Heart Music, which is a platform dedicated to sharing devotional music, sacred sound & song empowerment, while creating inspiring, heart-centered spaces for community healing & evolution. 
https://www.instagram.com/awakened.heart.music/
Related Events