Soul Lift Cacao Journey
August 20, 2022 @ 6:00 pm

-

9:00 pm
Event Navigation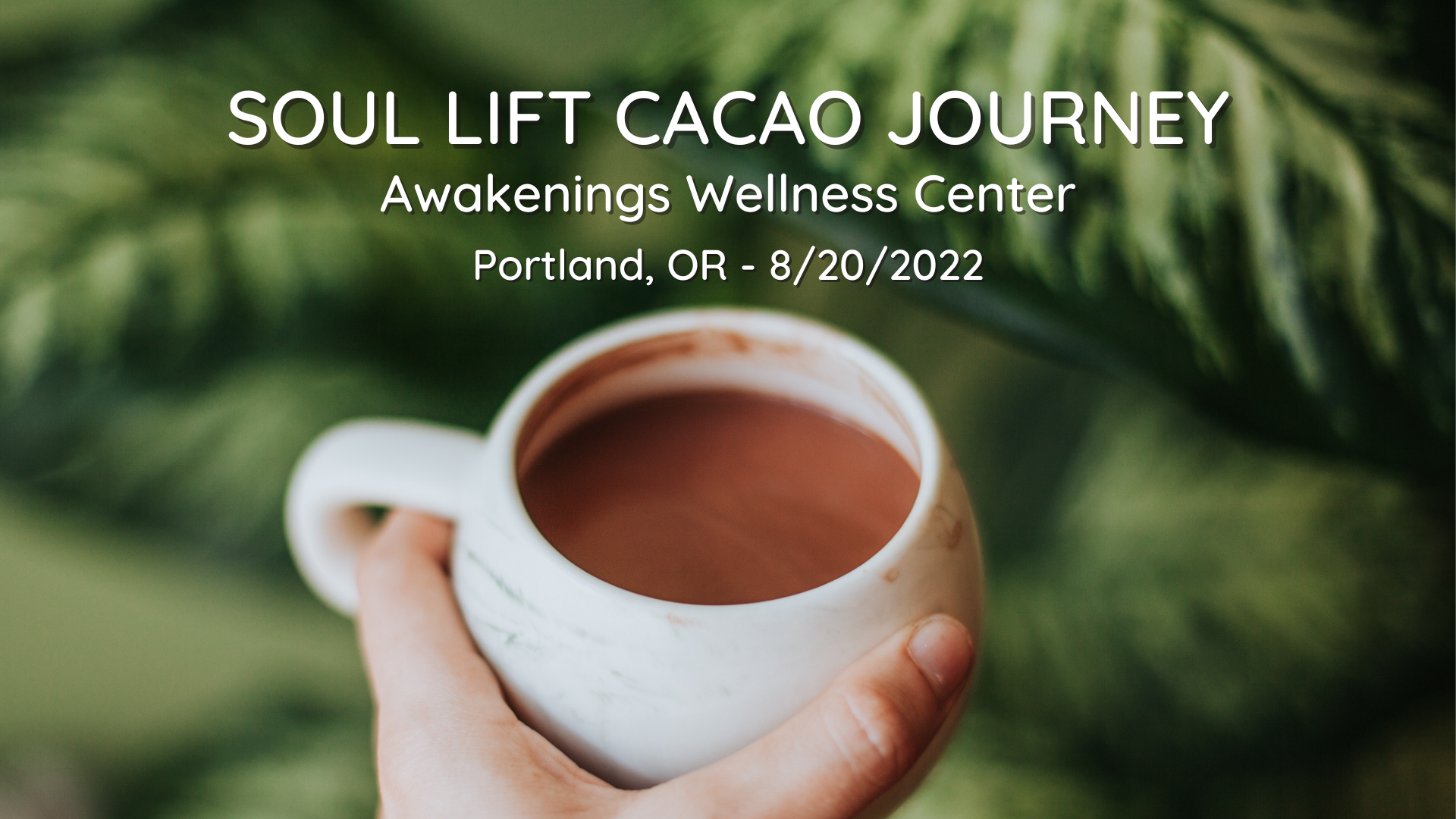 Come enjoy a special cacao journey with Soul Lift Cacao founder Nick Meador. Nick is returning to Awakenings Wellness Center after an enriching cacao journey for the summer solstice.
After a brief discussion about sustainability and ethics, Nick will go over container agreements and then lead an intention circle with the cacao.
The journey will be guided intuitively, weaving together different embodiment and connection practices that are called for in the moment.
Through a balance restorative experience and shadow work, the intention is for you to leave feeling refreshed, empowered, and clearer about your direction moving forward.
We'll close the journey with an intention circle, so that we can co-regulate after any emotional or energetic release, and find a gem to take with us back into our day-to-day life.
TIME AND PLACE
6-9pm PT
Saturday, August 20
Awakenings Wellness Center
1016 SE 12th Ave
Portland, OR 97214
* Enter the studio via the "driveway" and staircase on the left side of the building.
* Doors will close to new entry 30 minutes after the start time, to protect the container. ❤
CONTRIBUTION
$35 advance registration
$40 day of event
• Includes ceremonial serving of cacao and the full experience
• If you feel called to attend but funds are an issue, reach out to hello@soulliftcacao.com
WHAT TO BRING (optional)
• Water
• Pen and notebook (if you'd like to write down insights)
* The venue has yoga mats and cushions, but you're also welcome to bring your own if desired
* Masks are welcome but not required.
ABOUT CEREMONIAL CACAO
Cacao is the natural, unprocessed form of chocolate grown in tropical regions around the world. Most people know cacao as a superfood. It has possibly the highest amount of antioxidants of any food. Cacao contains beneficial minerals like iron and magnesium. It promotes the release of "happy" neurotransmitters in the brain. And the main active compound, theobromine, gives a boost of energy without the crash or cravings that can happen with coffee.
Yet cacao also has another aspect not spoken about in health food stores. It has been used for ritual and celebratory purposes in Mesoamerica for thousands of years. This more mysterious "plant medicine" side of cacao offers the potential to put you more in touch with your body and your soul. You can gain insights into the best direction moving forward, as well as the focus and motivation to take action towards those goals.
Soul Lift Cacao sources authentic ceremonial cacao through ethical direct trade with Mayan collectives in Guatemala. The cacao seeds (aka "beans") are toasted over wood fire and peeled by hand the ancient, traditional way. The cacao makers send intentions into the cacao for it to be a soul medicine for the world.
LED BY SOUL LIFT CACAO FOUNDER NICK MEADOR
Nick has been on a path of facilitation, leadership, and self-development for a decade. In 2015, Guatemalan ceremonial cacao changed Nick's life by helping him overcoming chronic fatigue syndrome (CFS). In the years since, Nick has traveled throughout Central America connecting with cacao farms, collectives, and experts. He founded Soul Lift Cacao with the mission to create a positive impact in the world by helping Mayan collectives share their cacao in the U.S. and beyond. Nick created the Soul Lift Cacao Method to provide an ethical and responsible way to share ceremonial cacao in modern settings, and to create safe, trauma-informed containers for transformational journeys.
NOTE ON SAFETY
While pure cacao is basically the original form of chocolate, it isn't recommended for people who have a heart condition and/or people who are taking MAOI antidepressants. If you have any concerns, please consult a doctor before participating.
NOTE ON ETHICS
This is not a reproduction of an indigenous practice. It's a modern holistic journey with cacao. Soul Lift Cacao works in close partnership with Mayan teachers and cacao workers in an ongoing effort to bridge cacao into the modern world. Based on their input we believe what's most important in sharing cacao in modern settings is to source it ethically and responsibly, be clear that this is not an indigenous practice, and ensure that the container is as strong and specific as possible. In this way, we can utilize cacao in a modern context with respect and integrity, through an ethical transmission of cultural elements that gives back in the form of acknowledgment and higher-than-average payment. Feel free to write to hello@soulliftcacao.com with any questions.
Related Events